Where the RCA logo come from?
Did you know the RCA logo was based on one of Francis Barraud's famous paintings, named "His Master's Voice". It depicts a fox terrier with the name Nipper, sitting by an old gramophone that plays an apparently puzzling sound, the voice of his late master. The picture had such strength, especially in the record industry's early years, that it was used as the Victor Talking Machine Company's logo, before it evolved into RCA Victor, in 1909.
It's not easy to illustrate the personality of a dog; that's why we created a list of artists that have done a good job, in our opinion, of expressing it on canvas.
Dogs Playing Cards
If you are a US resident, chances are that you 've seen and probably owned at least one copy of the famous "Dogs Playing Cards" paintings, which were created at the beginning of the 20th Century. What's not widely known is that there were initially 16 of these paintings. The Brown and Bigelow Company commissioned them in 1930, to use them in their cigar advertisements. C.M. Coolidge, their creator, could have never foreseen that his work would evolve into iconic American symbols. Although they are thought of as relatively inexpensive home ornaments today, the original oil paintings are quite valuable. Two of the originals, A Bold Bluff and Waterloo, were auctioned together in 2005, for almost $600,000.
The Dog
If we had to separate only one dog painting, based on its significance to artists and the art world in general, it would have been "The Dog", by Francisco Goya. Painted in the Spanish artist's home somewhere between 1819 and 1823, it belongs to the famous "Black Paintings" that remained behind at Quinta del Sordo. In the picture itself, the dog is only represented by a small head, peeking over a dark ascending mass, with a blurry sky in the background. The image was transferred to canvas after Goya died, since it was originally oil-painted onto the villa's wall. Artists consider it one of the earliest Symbolist paintings in the West, illustrating a strong depiction of man's clash against seemingly hopeless conditions.
Saved and the Distinguished Member of the Humane Society
The well-known creator of the Trafalgar Square lion sculptures in London, Sir Edwin Hendry Landseer, painted the "Saved in 1856" dog painting, which illustrates the scene of a child being saved from drowning by a dog. The artists had also used a Newfoundland dog 18 years earlier, in his famous painting called The Distinguished Member of the Humane Society. Both dogs shown in these paintings may very well be the same animal. Landseer's apparent love for this breed made him famous with dog shows and kennels worldwide.
Blue Dogs and the Legend of Loup Garou
The Blue Dog Pictures, a series of paintings created in 1992 by a Cajun artist named George Rodrigue from Louisiana, became famous after Absolute Vodka used them in their advertisements. Although the blue dog has appeared in several other occasions since then, it wasn't initially painted for commercial reasons. Rodrigue's paintings were based on Loup Garou, a local Cajun mythical werewolf that was believed to roam in the swamps around New Orleans and Acadiana. Parents use the character to teach their children about morality, but the blue dog paintings have been used commercially which has softened its power.
A Couple of Foxhounds 1792
North Lincolnshire Reverend, Thomas Vyner, probably commissioned this painting by Stubbs. Vyner was an avid equestrian and sportsman, and keen on hound breeding. He and Charles Anderson-Pehlam, who later became First Baron Yardborough, were close friends and frequently hunted together at the Pelham estate, Brocklesby. Stubbs painted Ringwood a portrait of the Brocklesby pack's leading hound, the same year he made this painting. The hounds illustrated in this image probably belong to the same breed.
It is easy to notice the evolution of the sophistication in his style, by comparing this painting to some of his earlier paintings, such as Foxhounds in a Landscape (1762) which depicts 5 dogs arranged in a frieze. In the 1762 painting, his style was more formal.
A Jack in Office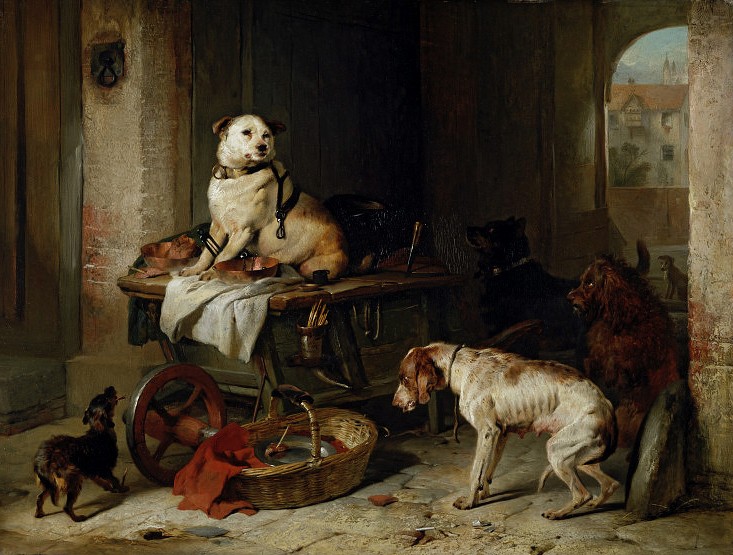 Landseer painted "A Jack in Office" in 1833.
The title is jargon describing an arrogant government official. It is a pun on the protagonist, a Jack Russell terrier. A critic outlined the way the well-fed and much-caressed dog…prevents others from trying the food of which he has had plenty.
George Romney, Lady Hamilton as Nature (1782).
Emma Lyon, shown here at age 17, seems to have risen from her humble origins as a blacksmith's daughter, to become mistress of some of the richest men in Great Britain (According to Wikipedia, she was only 15 when she danced naked on a table at a stag party that lasted a week).
Berthe Morisot, Laerte the Greyhound, 1894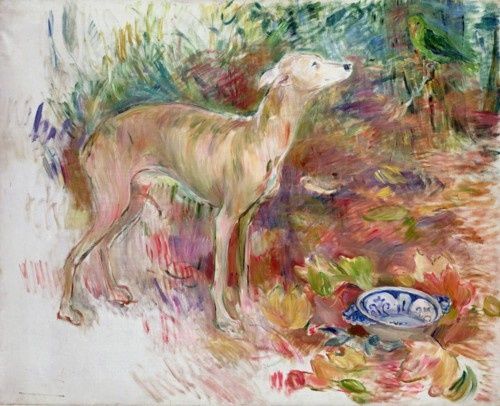 This painting by Berthe Morisot, depicts Laertes, Eduard Manet's lovely pet dog, gazing at a parrot. The artist's sketchy brushwork, typical of her confidence, outlines the dog's energy in a marvelous way.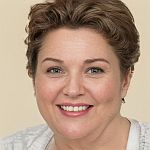 Molly Wilson  is a blogger, with a passion for animals, social media and writing. She is a wife and a mother. In her spare time, she enjoys traveling and spending time with her kids and her two dogs.