If you're looking for the best dog grooming clippers, this is the buyer's guide 101 for you. It doesn't matter if you're a professional groomer or just needing to keep your pet's coat looking good, these products will have plenty of features you're sure to love. As an added bonus, we'll even explain why grooming should be an important part of your pet's care. For today, let's look at the best dog grooming clippers and their specifications.
Best Dog Grooming Clippers
Top 10 Dog Grooming Clippers
When picking a trimmer for your dog, there are a few factors you'll want to consider. Will you need cordless clippers so that you can have a better range of motion? Or does your dog behave enough that a long cord will work? Is it important that you pick a model that is quiet, so your dog won't panic?
You'll also want to consider the size of your dog. Not all models are good for larger breeds or breeds with a lot of hair. If you'll be cutting different hair lengths, you'll want a model with attachments. Each of these features will be covered in your ultimate "Which Dog Grooming Clippers To Buy Guide":
Speed
Cord/cordless
Sound level
Blades/attachments
Amazon rating
Pros/Cons
1- ENJOY Pet – Professional Pet Hair Grooming Kit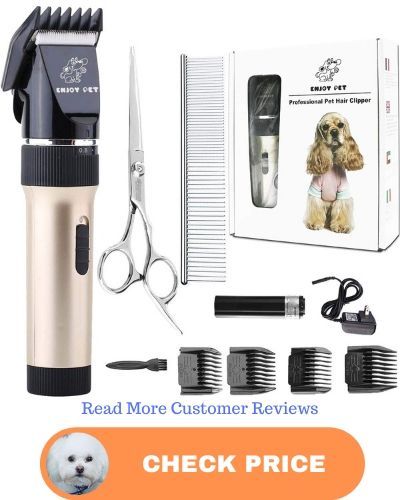 The ENJOY PET Professional Pet Hair Grooming Kit includes everything you'll need for an all-over groom, including a 9,000 RPM clipper, stainless steel comb and scissors, and four guard attachments. The ceramic blades have 33 teeth that can be adjusted to five lengths and are removable for easy washing or swapping.
You'll get up to 7 hours of use out of one charge, which might make up for the fact that the lithium-ion battery is built-in. Charging will require a bit of patience as it takes three hours. And at less than 60 dB noise level, even the most nervous pets won't be frightened by the sound.
The motor is clog resistant; however, this trimmer isn't meant for larger animals. And it might have problems with thick, matted fur. This product has a 4.5 out of 5-star rating on Amazon, based on 865 ratings. It ranks #12 in Dog Grooming Supplies. If you're looking for a lightweight, powerful trimmer with extended battery life, this might be an option for you.
Pros
Cones
✔ Quiet
✔ 7-hour battery
✔ Detachable and adjustable blades
✔ Extra guard attachments
✔ 9,000 RPM
❌ Not meant for larger animals
❌ The battery is not removable
❌ Might not trim thick, matted fur
Get ENJOY PET Grooming Kit Now
2- Andis UltraEdge Super 2-Speed Detachable Blade Pet Clipper
The Andis UltraEdge Super 2-Speed Detachable Blade Clipper has a four-star rating on Amazon, based on over 700 customer reviews. This small, lightweight trimmer allows you to pick between two speeds. High, which runs at 4400 SPM, is good for allover cutting. And low, which runs at 3400 SPM, might be better for sensitive areas such as around the face or ears.
It comes with one #10 blade, which is enough to cut thick coats such as Spaniels, or Poodles, although you may prefer to buy a few other sizes for a full grooming, such as shaving. The #10 blade is not optimal for medium to large thick-haired dogs. The blades are detachable for easy cleaning and changing. You can use UltraEdge, CeramicEdge, ShowEdge, and Oster A-5 blades interchangeably.
The rotating motor stays cool, meaning your dog won't be uncomfortable with a long trim. The 14 foot cord gives you plenty of motion, without having to be trapped next to a power source. The housing is shatter-proof, meaning a stress-free cut if you happen to drop the trimmers. And with five colors to choose from, you can have a design that suits your personality. If you need a corded shaver for thicker breed small to medium dogs that gives you plenty of mobility this could be a good fit for you.
Pros
Cones
✔ Two speeds
✔ Shatter-proof housing
✔ Detachable blades
✔ Multiple color options
✔ 14 foot cord
❌ Is strictly corded. There is no battery option
❌ Only comes with one blade size
❌ Not great for medium to large breeds with thicker hair
Get Andis UltraEdge Super Clipper Now
3- Bojafa Low Noise Cordless Dog Grooming Clippers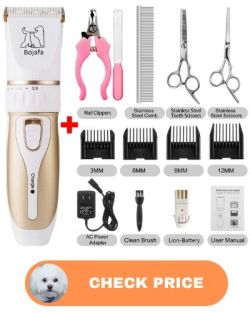 The Bojafa Low Noise Cordless Dog Grooming Clippers is a great option if you have skittish pets that shy away from loud noises. This pair of clippers operate at only 50dB, which is whisper quiet. Many customers say that even the most nervous dogs seemed unfazed by the low sound. This option comes with a complete grooming kit, eliminating the need to ever use a professional groomer again.
You get cordless clippers, power adapter, 2 Lion batteries that last for 75 minutes, 2 pair of stainless steel scissors, stainless steel comb, nail clippers kit, 4 guides: 3mm, 6 mm, 9 mm, and 12 mm, and a cleaning brush. At just a fraction of the cost of other trimmers. The titanium blades stay cool while operating and detach for changing or cleaning.
This product has been ranked #21 on Amazon for Dog Grooming Clippers. And it has a four-star out of five-star rating out of more than 900 reviews. Customers mentioned using these trimmers on large, thick-coated breeds like Border Collies, as well as horses. Although it might not be as powerful as other clippers, meaning it would take you longer for grooming. If you're looking for an all in one grooming kit for a very affordable price, this might be the option for you.
Pros
Cones
✔ Super quiet
✔ Complete grooming kit
✔ Extra battery
✔ Cordless
✔ Affordable
❌ Not as powerful
❌ Takes longer to groom
❌ Short battery life

Get Bojafa Dog Grooming Clippers Now
4- Oneisall Quiet Pet Clippers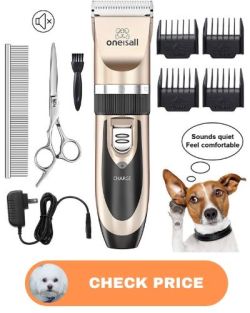 The oneisall Quiet Pet Clippers is the number one bestseller on Amazon. It has 4.4 out of 5-star based on over 2,000 ratings. And with all the features, it's easy to see why this electric shaver is a customer favorite. Powered by a built-in Li-ion battery, you'll get two hours of usage life. However, be prepared to wait four to five hours for a full charge.
But, you can continue using the product while it's charging if you don't finish your pet's trim before the battery dies. If you're grooming a large dog, this might not be the best pick for you. However, if you're looking for trimmers that work great for smaller breeds, this option makes a great choice. It has detachable ceramic and steel blades and comes with 4 guards: 3 mm, 6 mm, 9 mm, and 12 mm.
Despite the various guard lengths, this product can jam if you're using it on thick, coarse, or matted fur. It's recommended to trim the hair shorter using the included stainless steel comb and scissors. If you need a quieter trimmer, this one runs at only 50 dB and has low vibration, which is less troublesome for your pet.
Pros
Cones
✔ Multiple guard attachments
✔ Whisper quiet
✔ Ceramic blades
✔ Low vibrations
✔ Included comb and scissors
❌ Gets jammed in thick, coarse, or matted fur
❌ Longer charge time
❌ Limited battery life


Get Oneisall Quiet Pet Clippers Now
5- Sminiker Professional Dog Grooming Kit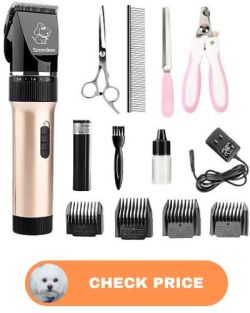 The Sminiker Professional is a rechargeable, cordless clipper kit that comes with all the grooming accessories you could need. It has a 4.4 out of 5-star rating on Amazon based on the ratings of over 1,600 customers. It ranks 4th in Dog Grooming Supplies.
It works great for small animals and even horses. Although it isn't powerful enough to trim matted fur or tangles. And you might come across some issues with thick fur too. It comes with four guards of 3mm, 6mm, 9mm, and 12 mm guards and the titanium blade can be slightly adjustable from 2mm to 0.9mm. It also comes with a full nail trimming kit, 2 stainless steel scissors, and a nail file.
And, at less than 60 dB, most pets won't be bothered by the sound. However, if your dog is extremely timid around sounds, you may prefer to find a quieter alternative. Most reviewers seemed satisfied with the low vibration and noise, as did their dogs.
Pros
Cones
✔ Full grooming kit
✔ Multiple attachments
✔ Adjustable blades
✔ Great price
✔ Ceramic and titanium blades
❌ Long charging time
❌ Not suitable for thick fur
❌ Doesn't work well on matted or tangled fur

Get Sminiker Professional Dog Grooming Kit Now
6- OSTER Volt Cordless Pet Clippers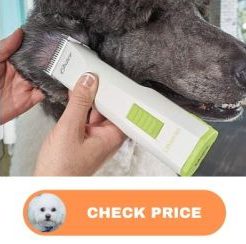 The Oster Volt Cordless Pet Clippers is a great, lightweight option for all your grooming needs. It has a 4.2 rating on Amazon. It's rated as the Amazon Choice for "Oster dog clippers". It's powerful enough to be used on your dogs, cats, or livestock thanks to the single-speed 2400 SPM motor. This keeps the blade cooler, which will allow for longer use.
You'll get up to two hours of operation per charge due to the detachable Lithium-Ion battery. Have a few batteries for backup and you can keep working while your dead battery completes its one hour charge. You'll be able to groom multiple pets in one day. Although your ears might not handle the extended time as well as the trimmer. This is a louder model compared to others.
The #10 CryogenX blades are made of high carbon steel, making it easy to cut through coarse, matted hair. Most people can do all their grooming with this one blade, as it works for the face, ears, stomach, feet, and tail. However, if you're needing all-over coverage, you'll need to purchase a different size blade, such as the #7F, #3F, #3, or #10W.
Pros
Cones
✔ Cordless
✔ 2 hours of operation time
✔ Detachable Lithium battery
✔ Good for multiple species
✔ Lightweight

❌ Loud
❌ Only comes with one size blade
❌ One speed

Get OSTER Volt Cordless Pet Clippers Now
7- Wahl Motion Lithium Dog Grooming Clipper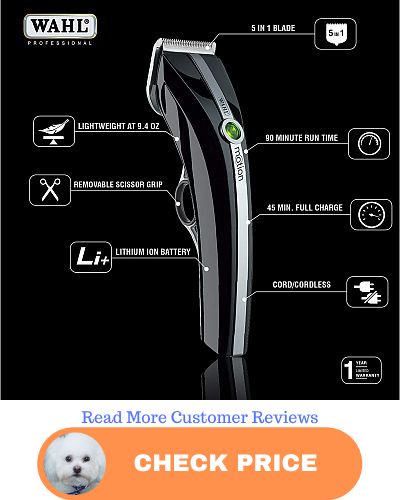 The Wahl Motion Lithium Clipper, which received a 4.2 rating on Amazon, is another versatile cordless trimmer that can work for all your grooming needs. This option comes with a complete kit, saving you a ton of money. It includes a 5 in 1 blade that can be adjusted from #9, #10, #15, #30, #40 cut lengths. As well as six attachments in sizes ⅛", ¼", ⅓", ½", ¾", and 1" for a more precise cut. This will work for all over cuts for small to medium breeds but might not work so well for full cuts or shaves on thicker breeds.
The Lithium battery has overcharge protection, ensuring you won't need a replacement for years to come. Although you might want to have a few as backups if you'll be grooming for longer than 90 minutes. If you want to stick with just one battery, you'll only have to wait 45 minutes for a full charge.
Which you can determine by the color of the power light. If it's green, it indicates the battery is 50% to 100% charged. If it's yellow, it means it's 25% to 50% charged. And red means below 25%. Unfortunately, it does not provide a number percent in addition to the lights. It has a one-speed 5,500 SPM motor.
Pros
Cones
✔ Quick 45 minute charge
✔ Extra attachments
✔ 5 in 1 adjustable blade
✔ Cordless
✔ Can be used on different types of animals
❌ Shorter 90 minute run time
❌ One speed motor
❌ Might not be as good for thick or matted fur
Get Wahl Motion Lithium Dog Grooming Clipper Now
8- Andis Excel Pro-Animal 5-Speed Animal Grooming Clippers
The Andis Excel Pro-Animal 5-Speed Clippers is a corded dog clipper with five speeds. It received a 3.4 rating on Amazon based on more than 200 reviews. It's lightweight, which offsets the larger size compared to other models, and has a slip-resistant rubber grip. Great if you're trimming a dog that likes to squirm. It runs at just 30 hertz, which is ideal for dogs that are nervous around loud sounds.
It ranges in speed from 2500 to 4500 strokes per minute, making this trimmer perfect whether you're doing a small trim, or having to remove a lot of matted, tangled fur. At 4500 rpm, this trimmer can easily handle thick fur, such as Poodles or Terriers. All you have to do is switch the detachable blades.
It comes with #10 ceramic edge blades, which last longer and emit less heat. But you can use blades from other manufacturers as well. You may want to invest in a few different size blades for different cuts, as this model does not use guard attachments to control length. It's recommended that you use #7 blades if you're intending to shave your dog, and these are not included.
9- Razoo Dog Grooming Clippers
If you're looking for a basic clipper option without all the extra accessories, you should consider the Razoo Dog Grooming Clippers. These cordless, lightweight trimmers run at less than 50 dB, meaning just about any dog can handle the noise. They also have low vibration, making this the perfect option for small, jumping pets.
It comes with 3mm, 6mm, 9mm, and 12mm attachments, 2 stainless steel scissors and a stainless steel comb. You get 90 minutes from the built-in battery which takes four hours to charge. With the option to continue using the product while it's charging.
This product received a 4.4 star rating on Amazon. The one year warranty and a money back satisfaction guaranteed policy gives you peace of mind with your purchase. If you don't find the product to your liking, send it back and get a refund.
Pros
Cones
✔ Less than 50 dB
✔ Multiple attachments included
✔ Low vibration
✔ Comes with scissors and comb
✔ 1 year warranty
❌ Short battery life
❌ Battery is built in so you can't swap it out for a replacement
❌ Long charge time
Get Razoo Dog Grooming Clippers Now
10- FOCUSPET 3-Speed Professional Dog Grooming Clippers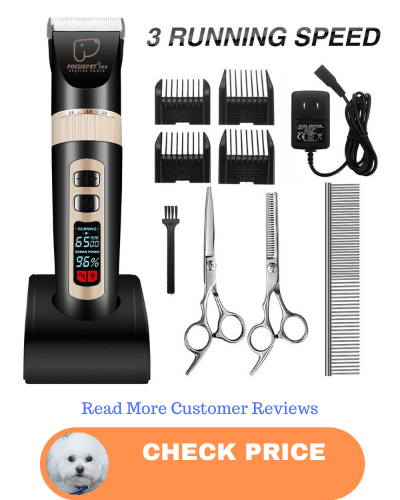 The FOCUSPET 3-Speed Professional Dog Grooming Clippers includes everything you need to do a professional looking groom, from the comfort of your own home. You have a choice of three speeds, making this a great option for all of your pet grooming needs, regardless of the type of animal. The lowest speed is 5000 RPM and is good for soft hair. 5800 RPM is better for medium hair. And if you have a pet with thick, coarse hair, no worries. Just switch it to 5800 RPM.
You'll never run higher than 50 dB, which means even your most nervous pet won't be bothered. The ceramic blade is detachable for easy cleaning or swapping. And you get four attachments so you can trim to your desired length without having to buy attachment products. In addition, you'll also get two stainless steel scissors and a stainless steel comb.
You have the option to use the 2000mA Li-lion built in battery, which gets up to four hours run time on one charge. Or plug the device in and keep grooming while it's charging, which can take up to three hours. Once you're done grooming, place the trimmer on the included small charging stand. Smart technology will protect your battery and keep the device from overcharging.
The easy to use LED screen takes the guesswork out of maintenance. You'll know in advance if you need to get to a power source before the battery dies. It will even display the RPM, whether it's plugged in to charge, and when you should add oil for lubrication (the oil is not included).
This product received 3.8 out of 5 stars on Amazon, from 20 reviews. If you're looking for a powerful, lightweight trimmer that can fit all your grooming needs, this might be your favorite pick on the list.
Pros
Cones
✔ Three speeds
✔ 50 dB
✔ LED screen
✔ Four attachments
✔ Four hour run time
❌ Long recharge time
❌ Battery is built in so you can't swap it out
❌ Necessary oil isn't included in package
Get FOCUSPET 3-Speed Professional Clippers Now
How To Choose The Best Dog Grooming Clippers
You don't have to be a professional groomer to use professional tools. A lot of pet owners prefer the durability you get with ceramic blades over titanium or steel, although the benefits are great with all of them. There are other materials you could choose but these are the most preferred types.
The following are some important options to consider when choosing your next dog grooming clipper.
Corded Dog Grooming Clippers
Do you prefer a cordless trimmer so that you can groom your pets in the tub or outside? Or would you be okay with using a corded trimmer? If you choose a corded trimmer, make sure you take into account how much reach you'll need. You don't want to stop working in the middle of your grooming process just to reshift so you can reach the other side. Corded trimmers allow you to complete your entire cut, without being concerned that you'll run out of power.
Cordless Dog Grooming Clippers
Battery operated trimmers are a great choice but make sure you consider how long the battery life lasts, as well as how long it takes to recharge. If you're doing multiple pets in one day, you'll want as much power as possible. Some brands allow you to keep trimming while your device is charging. This is useful as you won't have to worry about your trim being interrupted before you're done.
Dog Grooming Clippers With Detachable Guards
You may also want to think about what lengths you'll be wanting to trim. If you're using the clippers for different breeds, or different cuts for different seasons, you'll want a trimmer that comes with different length guards. The most common four you'll find with dog trimmers are 3 mm, 6 mm, 9mm, and 12 mm.Guards are great for beginner stylists as there's less chance of you messing up while cutting.
Dog Grooming Clippers With Detachable Blades
Some people prefer to use blades without guards. In this case, look for a model that has an adjustable blade so that you have more control over the length of your trim. Most trimmers come with a #10 blade, which is good for all over cuts. But if you have a dog with thicker fur, or matted areas that you plan to shave, you'll also need to purchase different size blades as well. The smaller the blade, the longer the cut. So a #3 blade will leave hair longer than a #7 blade.
Noise Level
You should also consider the sound level when selecting a pair of clippers. If you have a young pup who isn't used to grooming yet, or just a nervous breed that can't handle loud noises, you'll want to pick an option that has a low decibel level. Your ears will thank you as well. When grooming large dogs, the sound of trimmers can grate on your nerves before the job is through.
Speed
You'll also need to decide if you're okay using a shaver that only has one speed, or one that has multiple. The rotations per minute will be how frequently the motor turns over. A higher RPM (also known as spins per minute or SPM) means an easier cut. Higher speeds are better for thick or coarse hair. Having the option to choose between multiple speeds allows you better control when working on sensitive areas such as around the face or ears.
Dog Grooming Kits Versus Sets
One final option you should consider is a kit versus a set. A set typically comes with the bare minimal accessories: clippers, a power source, a few length attachments, and sometimes a brush. A kit, on the other hand, is useful for full grooming. Most sets come with clippers, multiple attachments, cleaning brush, a comb, charger, nail trimmers set, and grooming scissors.
Why Should You Groom Your Dog?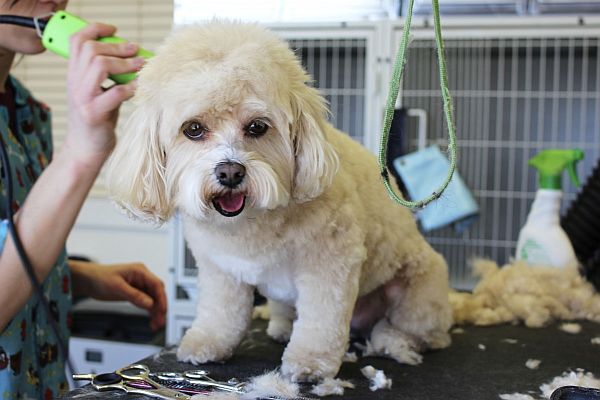 Being a pet owner is a big responsibility. You have to worry about making sure they get the proper diet, exercise, and even grooming. When it comes to grooming, many people think this is just a superficial activity that people do to keep their high maintenance dogs looking attractive. But it's so much more. Grooming your dog has multiple health benefits.
When you groom your pet, you'll focus on most of the same things you do when you groom yourself. This means brushing your pet's fur and doing regular cuts; cleaning their ears and teeth; bathing them, and trimming their nails. It sounds like a lot but if you have a well-behaved dog, and you keep to a decent routine, the process shouldn't take more than an hour.
How to Groom Your Dog
Grooming isn't as much work as it sounds at first. But it may take a bit of time to get your dog used to the process. Take it slow and reward him when he is doing the proper routine. Most dogs love the attention and affection that comes with grooming and will learn to enjoy the process once they have gotten accustomed to it.
Washing Your Dog's Fur
You should give your dog a bath at least twice a month. Some long-haired breeds may require a weekly bath. Don't stress if you find the need to bathe them sooner than you normally do. Or if you miss a week, or even two. As long as you give him a bath at least once a month. Experts recommend not waiting longer than three months between bathings. If you'll be doing frequent washings, use a gentle shampoo so that you don't risk drying your dog's skin out.
While scrubbing your dog's coat, take the time to notice any areas where she seems sensitive. These are places you'll want to check once she's soap-free. Also, check for any unusual lumps or masses. Matted areas might be sensitive to the touch so you'll want to work these areas carefully. Fleas and ticks can often bed in these clumped areas. If this is the case, the skin might be raw or scabbed.
Brushing Your Dog's Coat
You can also do this exam while you're drying and brushing your dog. Giving your dog a brush down at least once a week can reduce the amount of shedding she does. This means less cleaning for you to have to do. The process removes dead hair, dirt, dandruff, and even pests like fleas or ticks. Less dandruff means fewer allergens in the air, which can be soothing for people with pet allergies.
Brushing also makes your dog's coat shiny. The brush bristles pull oil out of the hair follicles and each stroke will spread it out over the fur. And like humans, dogs need haircuts too. Especially long-haired breeds. Allowing hair to repeatedly fall into your dog's eyes can lead to eye infections or even blindness. If you notice your puppy has watery eyes, it may be time for a haircut and a veterinarian visit.
Trimming Your Dog's Fur
The frequency in which you cut your dog's coat will depend on factors like the breed of dog, the length you prefer, and even the season. If you have a long-haired breed, you'll likely have to do it more frequently. Not keeping your pooch's coat trimmed can lead to a few problems.
For one, it can end up matted or tangled from all the things she interacts with. You may end up having to cut gaps out of her fur to get rid of it. Letting hair get into his eyes can cause eye infections or blindness. And letting the fur get too long underneath their feet can cause them to trip and get injured.
Many people choose to send their dogs to a professional groomer or veterinarian for hair cuts. But it's not that hard to do it at home. The first thing you need to do is to make sure you have the right tools. Trying to cut a dog's fur with dull trimmers will be difficult and unsightly. And you shouldn't use human trimmers for dogs, as they cut differently on fur than hair.
Grooming Your Dog Doesn't Have to be Hard
Instead of spending a bunch of money taking your dog to a professional groomer, consider buying the right dog grooming clippers and tools and do it yourself. Most of the options listed here are great for beginners. If you're new to dog grooming, consider picking a clipper that comes with protective guards. This allows you to trim your dog's coat without worrying that you'll butcher the cut. Guards might also be useful if you have a dog that's new to grooming.
Expert Tip
You don't have to spend a fortune to make your dog look good. Many of our recommended best dog grooming clippers cost less than $100. Whichever option you pick, make sure it works for your breed of dog and yourself. With just a few practice sessions, you'll have the hang of grooming like a professional. And who knows. Maybe you can even make a few bucks on the side by grooming for family and friends as well.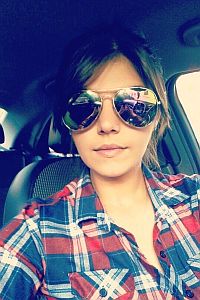 Kassidy Shepperd is the editor in chief for Canine-Prime.com. She is is a dog lover/trainer, a freelance writer and a volunteer at many pet rescue and shelter centers. Kassidy is based in Colorado and regularly writes for dog related magazines and blogs.