We know you want your pet to look, and feel his best. Your first step to providing great care is making sure your dog is getting the proper nutrition. It might be surprising, but some dogs do suffer from allergies or health conditions, which can affect your dog's skin and coat. A proper diet can go a long way to fix these issues. So we've made this guide to help you figure out the best dog food for dry skin.
Best Dog Food for Dry Skin
Top 5 Best Picks for Dogs with Dry Skin
1. AvoDerm Natural – Editor's Pick for Best Food for Dry Skin
If you want a product that's designed specifically for your dog's skin and coat, we recommend our Editor's pick, This product is great for large or small adult breed dogs and does not contain wheat, corn, soy, animal by-products or meals, potatoes, peas, artificial colors, flavors, or preservatives.
This US-made product contains one source of protein, compared to other brands that combine different types of protein. Another thing we love compared to other products is that it also contains California avocados, which are full of fatty acids and nutrients to keep your pet's coat and skin healthy. Avocados are a great source of:
Vitamin A
Vitamin C
Vitamin E
B6
Folate
Potassium
Niacin
Crude Fiber
AvoDerm's top five ingredients are chicken meal, ground brown rice, ground white rice, oatmeal, and chicken fat. This product is also packed full of Omega-3 and Omega 6, and vitamins like C, E, B1, and B12, in addition to lots of others. Overall, the included ingredients will provide your pet with the perfect balance of vitamins and nutrients for a healthy diet and an itch-free coat and skin.
AvoDerm is considered an Amazon's Choice pick. It has 23% protein, 13% fat, 4% fiber, 10% moisture, 2.49% Omega-6, 0.78% Omega-3, and 360kcal/cup. Customers should remember that this product is not grain-free.
If you're in the market for an adult dog food that has been specifically formulated to treat dry skin and coat, you should consider AvoDerm Natural. Check Availability and price here.
We love this product made by Merrick because it's grain-free, which means your pet won't be exposed to common allergens like corn, dairy, or soy. And it's full of Omega-3s and Omega-6s for a shiny coat. As well as probiotics for healthy digestion and plenty of vitamin supplements, making this a well balanced hypoallergenic food for your itchy pup. 
The first ingredient listed is deboned chicken, which is a great source of protein. In addition, the manufacturer uses a chicken meal and turkey meal to add extra sources of protein, which are good for your pet's energy levels. The overall content analysis is 70% meat/30% produce.
Top five ingredients:
Deboned chicken
Chicken meal
Turkey meal
Sweet potatoes
Potatoes
Some of the produce this product contains are sweet potatoes, potatoes, peas, apples, and blueberries. These ingredients are great for providing the proper nutrition your pet needs to stay healthy.
If you're looking for a healthy, USA-made, grain-free dog food that's appropriate for all life stages and breeds, Merrick Grain-Free Dry Dog Food might be a good fit for you. Check Availability and price here.
If you're looking for high-quality dog food for your pet's dry skin, but you don't want to break the bank, consider our budget pick, Purina Pro Focus Sensitive Skin & Stomach. This product is made with salmon as the number one ingredient, in addition to rice and oatmeal, which are good sources of carbohydrates. It also has Omega-3s like fish oil (a good source of EPA) and Omega-6s, zinc and sunflower oil – great for your dog's skin and coat.
The first top five ingredients are:
Salmon
Barley
Ground rice
Canola meal
Oatmeal
Other ingredients are fish meal and salmon meal, which provide glucosamine – an important component for healthy bones and joints – and multiple vitamin supplements. Compared to most products, this option has a limited number of ingredients, making it less likely to be harsh on your pet's digestive system. And it does not contain any corn, wheat, soy, artificial colors, flavors, or chicken by-products.
Purina Pro Focus highly rated on Amazon, based on more than 1000 customers. However, be cautioned that this product is intended for adult dogs and not puppies. And it is not grain-free.
 If you need a product that's good for your dog's sensitive stomach and skin, without costing a fortune, Purina Pro Focus Sensitive Skin & Stomach might be right for you. Check Availability and price here.
Our favorite thing about Wellness Simple Limited Ingredient is that it has multiple product choices, which is great if you have a dog that likes to have different flavor profiles. Wellness Simple uses a single source of protein like duck, turkey, lamb, and salmon, which is always the first ingredient listed. 
Each choice is free of gluten, meat by-products, wheat, corn, dairy, eggs, artificial preservatives, colors, and flavors. Flaxseed and canola oil provide a great source of Omega 3, while prebiotics like chicory root extract aid in good digestion. This product also contains multiple vitamins, acids, and nutrients for a balanced diet.
The top five ingredients are:
Deboned turkey
Turkey meal
Potatoes
Peas
Dried ground potatoes
Not only is this brand good for your pet's dry skin, but it is also great for sensitive stomachs and dogs with food allergies or intolerances. They also have grain-free options for those of you who prefer this route, although you should be mindful of the dangers of using grain-free. This brand has 29% protein, 14% fat, 49% carbs, and a fat to protein ratio of 47%.
Wellness Simple is a product made in the USA. It is considered an Amazon's Choice pick and has six different options available: healthy weight grain-free, lamb and oatmeal, turkey and potato, salmon and potato, duck and oatmeal, and small breed grain-free.
If you want a dog food that doesn't have a bunch of different stuff added in, you should consider Wellness Simple. Check Availability and price here.
It might sound weird to some of you but there are some dogs who are vegetarians. You should never switch to a meat-free diet without consulting an advisor like a dietician or vet. Your dog is an omnivore, which means he needs nutrition from both meat and produces. However, if your dog is sensitive to meats, and you have a recommendation to go veggie, check out Natural Balance Vegetarian. 
Rice, oatmeal, potatoes, and peas provide your dog with energy in place of animal-based proteins. And it's packed with Omega-3s and Omega-6s like flaxseed, canola oil, zinc, biotin, and vitamin supplements. All of these ingredients are going to keep your pet's coat shiny and his skin moisturized. It has a protein count of 18%, 8% fat, 5% fiber, 10% moisture, 1.5% Omega-6, and 0.3% Omega-3.
The top five ingredients are:
Brown rice
Oat groats
Barley
Peas
Potato protein
Natural Balance Vegetarian is appropriate for all life stages and all breeds who are suffering from dry skin and is on a vegetarian diet. This product does not contain any animal or dairy products, which means meat and eggs – protein – so it's great for pet owners who prefer vegan products.
If you and your veterinarian have decided your pet needs a meatless diet, Natural Balance Vegetarian might be the right dog food for your canine. Check Availability and price here.
Find the Dog Food That's Right For Your Pet
Before you start switching your dog's food, you should consult your veterinarian to determine what's causing your pet's dry skin. It might be a condition that has nothing to do with his food, in which case swapping brands won't help.
When you switch your pet to a different product, do so gradually so his digestive system has time to adjust to the new formula. Otherwise, you can cause your pooch to suffer digestive distress.
Top Dog Food for Dry Skin – What to Look for?
If you notice that your dog is showing signs of dry skin, it's best to determine the cause. Your pooch may have a medical condition that requires veterinary care. There are a bunch of different things that can cause your dog's itchy skin, including having an allergy to something they've eaten.
It's hard to narrow down what your pup might be allergic to, but veterinarians say that the top ingredients that dogs show an allergy to are:
Beef
Soy
Corn
Wheat
Dairy
Chicken
Eggs
When you're looking for new dog food for your pet's dry, itchy skin, look for one that contains Omega-3 and Omega-6 fatty acids, which help keep your pet's coat shiny and his skin healthy and moisturized. Some examples are eicosapentaenoic acid (EPA) and docosahexaenoic acid (DHA). Look for ingredients like flaxseed, salmon, and linoleic acid, to name a few.
Stay away from brands that have ingredients you don't know. Good dog food will have an animal-based protein as the first-named ingredient. If the company doesn't list the type of protein they use for their food, it's wise to look for a different brand. Unnamed meats are a sign of low-quality foods.
Editor's Pick
If you're still trying to decide which brand to go with, we recommend you check out our Editor's Pick,  AvoDerm Natural Adult Chicken Meal & Brown Rice. It has everything you need to provide your pet with the nutritional diet he needs for his dry skin.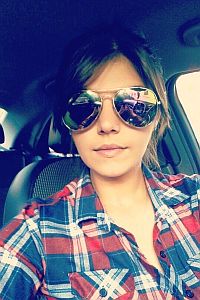 Kassidy Shepperd is the editor in chief for Canine-Prime.com. She is is a dog lover/trainer, a freelance writer and a volunteer at many pet rescue and shelter centers. Kassidy is based in Colorado and regularly writes for dog related magazines and blogs.