If you have a dog with a sensitive stomach, you should consider switching to homemade dog food for gastrointestinal problems. We've got all the info you need about how to properly feed dogs with digestive problems. You'll learn what can cause sensitive stomachs, what foods are good for canines with picky bellies, and five of our favorite homemade recipes for gastrointestinal problems to try.
Homemade Dog Food for Gastrointestinal Problems
Providing your pet with a nutritious meal doesn't have to be hard. We're going to give you five simple recipes you can whip up in a hurry, and for a low price that won't upset your dog's sensitive stomach or your wallet.
Dogs with sensitive stomachs are recommended to have one cup of food a day per 25 pounds of weight. You should spread this out throughout the day with multiple small meals. A good rule of thumb is to feed your pup when you feed yourself. Large servings can be problematic for dogs with gastrointestinal problems.
Recipe 1 – White Rice and Chicken
For this recipe, you'll need 1 ½ pound of cooked and chopped chicken meat, 1 ½ cup of veggie mix, and 4 ½ cups of water.
In a large pot, combine all the ingredients and cook on medium heat until boiling.
Then cover and simmer for 15 minutes or until the rice is thoroughly cooked.
Let it cool before dividing into appropriate portions and serving or storing.
Recipe 2 – Hamburger Mixture
Who doesn't love hamburgers?
Your dog will certainly enjoy this scrumptious and easy recipe. All you need is one cup of ground beef, ½ cup of cooked oatmeal, 2 hard-boiled eggs, two TBSP of cottage cheese, 3 tablespoons of beans, and 3 tablespoons of carrots.
Cook the ground beef in the oil.
Add in the finely chopped eggs and other ingredients.
Mix and serve once it's cooled.
Recipe 3 – Chicken, Pumpkin, and Rice
Chicken is one of the best proteins to give a dog with gastrointestinal problems because it's rather bland.
For this recipe, you'll need ½ cup of boneless, skinless chicken breasts, 1 ½ cups of white rice, ¼ cup of yogurt, ¼ cup of canned pumpkins, and ½ cup of mixed veggies.
Prepare the rice as directed.
Boil chicken breast.
Once cooled, shred the meat and combine all the ingredients in a bowl.
Refrigerate until ready to serve.
Recipe 4 – Chicken and Potatoes
Another easy recipe with a few simple ingredients – 1 ½ tablespoon cottage cheese, ½ pound minced chicken meat, ½ cup grated carrots, and 1 cup mashed potatoes.
Prepare the mashed potatoes and chicken as normal, with no flavorings. Avoid salt and pepper.
Once these are combined together, add in the canned carrots (these have already been cooked so it's quicker).
Let the mixture cool then add the cottage cheese. Viola. Dinner is served.
Recipe 5 – Chicken Soup
Your dog is sure to become a fan of chicken soup when you use this recipe. It's perfect for cold winter days after coming in from outside.
You'll need ½ pound chicken, 1 ½ cup potatoes, 1 ½ cup carrots, 1 stalk of celery, 1 liter of chicken broth, and 1 tablespoon of olive oil.
Boil the chicken to make your chicken broth. Mix in the extra broth.
Simmer for 30 minutes.
Add the veggies and continue to cook for another 15 to 20 until everything is cooked.
Cool slightly and serve.
Why Use Homemade Dog Food for Gastrointestinal Problems
Feeding your pup homemade dog food allows you to control what ingredients he's consuming. If your dog has food allergies, making his food means you don't have to worry about his food getting contaminated or allergic reactions.
Store-bought dog foods often have a lot of ingredients so it can be hard to determine what's making your pet's stomach upset. When you're home cooking your pet's meals, you can play with the ingredients until you find the right combination that works for your pet.
Making your own dog food can also be less expensive. You can make your pet's meals fresh each day or make a large batch and divide it into the appropriate portions so you can freeze it for later use.
Our five homemade dog foods for gastrointestinal problems are easy and cheap to make. Your pet is sure to love the fresh produce and yummy protein. These meals might look so good you will be tempted to make some for yourself.
What Causes a Sensitive Stomach?
The majority of sensitive stomachs are due to simple solutions like sensitivity to certain foods. Some dogs can't tolerate foods like grain. At other times, the dog food you're providing might be lacking the proper fiber, vitamins, or minerals. Or it might have too much of something like fat.
Some dogs might get into the trash or eat too many table scraps. Since dogs have different digestive systems than people, they often can't eat the same foods. Consuming foods that they can't properly digest can cause them to have a queasy tummy.
And the worst case, the symptoms can be a sign of a serious medical condition like stomach cancer. You should always seek your veterinarian's advice when you notice signs of a sensitive stomach like persistent vomiting or diarrhea.
In other situations, it could be a heredity problem that they inherited from their bloodline. Some breeds of dogs have more gastrointestinal disorders than others.
Symptoms of a Sensitive Stomach
If you're worried your dog has a sensitive stomach, you might be wondering what symptoms to expect. Dogs that have digestive problems will experience loose stools – also known as diarrhea – flatulence, and/or occasional vomiting shortly after eating.
If your pet continues to experience these symptoms after some time has passed since his last meal, you should consider getting an expert opinion. It might be more than just food allergies that are causing your pet's problems.
While your pet is sick, it's better to give her homemade recipes that won't upset her stomach instead of her usual dry kibble. The recipes we provide are suitable to give to your canine while she's experiencing digestive distress, as well as to continue afterward as a preventative from future problems.
What Food is Good for a Sensitive Stomach?
Dogs with sensitive tummies are a lot like people. They require bland diets to keep their stomachs settled. When you have a younger puppy that's experiencing gastrointestinal problems, he might not be able to handle dry store-bought dog kibble.
Luckily, there are some human foods you can give your dog that will provide all the appropriate nutrition without causing distressing symptoms. Here's a list of foods that are suitable for dogs with sensitive tummies.
Boiled chicken or turkey breasts – a good source of protein. Low in fat, fiber, and flavor so it's perfect for picky bellies.
Canned tuna or salmon – provides essential nutrients your dog needs to be healthy. Make sure it's preserved in water instead of oil and does not have salt. Salt can be dangerous for dogs.
Cooked eggs – eggs are high in protein. However, egg yolks contain phosphorus, which can be dangerous for dogs with kidney disease. Eggs also have a high-fat content. Some dogs with sensitive stomachs might not be able to tolerate eggs so use caution in adding them to your dog's diet.
Canned pumpkins – Pumpkins have a low glycemic index so it absorbs slowly, making this fruit ideal for dogs with sensitive stomachs or pups who are currently experiencing problems like vomiting and diarrhea. They help regulate bowel movements and firm up your dog's stool because they're rich in fiber. They also have antioxidants that are important for your dog's overall health.
White rice – white rice is a great source of carbohydrates, fat, and protein. It's also bland in flavor so it's great for upset stomachs and is often recommended for dogs who are suffering from diarrhea.
Boiled potatoes (white or sweet) – potatoes are bland in flavor but high in vitamins and nutrients so they're great for when your pup is sick. Remember to peel sweet potatoes before serving if you need to reduce fiber.
Yogurt – Yogurt has probiotics that are good for your pup's digestive tract. Pick one that doesn't have added flavors or sweeteners. You want plain yogurt. It can also help soothe an inflamed stomach.
Baby food – it may sound surprising but baby food is a nutritional substitution you can give your pup when they're experiencing digestive distress and can't handle dry kibble. Look for stage II meat-based options that are free from seasoning.
Bone broth – the broth is made from real bones so it has all the nutrients and minerals your pet needs to stay healthy while being sick, without being heavy on his stomach.
Keep Your Dog's Sensitive Stomach Happy
Having a sensitive stomach can be a challenge. It can take some time before you find out the cause – if there is one. You might have to go through different brands of food and play with different fresh ingredients before you find the right ones to include in your dog's homemade dog food. Try these five simple homemade dog foods for gastrointestinal problems and see if you notice any improvements.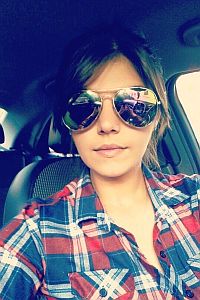 Kassidy Shepperd is the editor in chief for Canine-Prime.com. She is is a dog lover/trainer, a freelance writer and a volunteer at many pet rescue and shelter centers. Kassidy is based in Colorado and regularly writes for dog related magazines and blogs.